Indigo Bunting  Passerina cyanea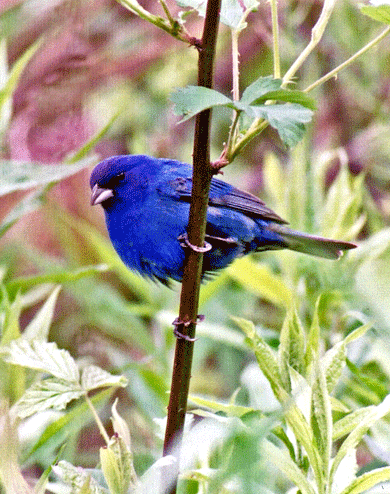 Indigo bunting  Passerina cyanea


The Indigo Bunting is one of the most abundant songbirds in the east as it is now probably more common than it was when the pilgrims landed, as it favors edge habitat and brushy pastures.  The brilliantly blue bird prefers abandoned land or old fields and is often seen along roadsides.

However, the Indigo Bunting's vivid blue color does not come from a pigment in the feathers.  The feathers are not blue at all, but black.  Light is diffracted by the feathers make them seem blue.  In feathers, "there is no pigment for blue, as in bluebirds, Blue Jays and Indigo Buntings," notes Dr. Rebecca Rupp in her book, Everything You Never Learned about Birds, "Instead, their feather barbules contain tiny particles that reflect light in such away that the feathers look blue.  Blue comes from the way the feather is built, not from colored chemicals."

The male may have more than one mate within its territory and generally will have two broods per year as the female does most of the nest building and care of the young.  The nest site is usually one to three ft. above the ground in dense shrubs or low tree.  I have found active nesting as late as mid-August in Northeast Ohio.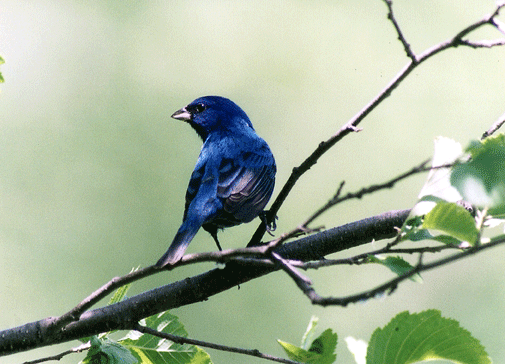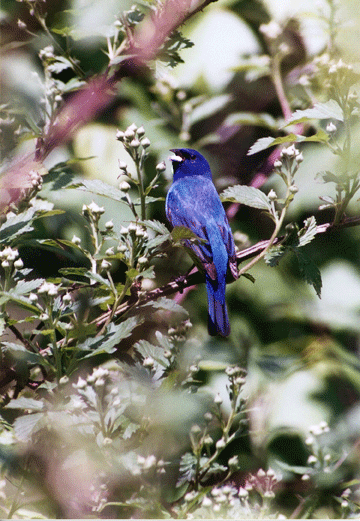 Copyright Mark Tiefenbach

Deepbrook Nature Photography

Copyright Mark Tiefenbach

Deepbrook Nature Photography

Copyright Mark Tiefenbach

Deepbrook Nature Photography